INTEGRATED SOLUTIONS
QUALITY SYSTEMS AUDIT PROCESS
Prepared By:

Lead Author, Integrated Solutions

Date

APPROVED BY & AFFECTIVE ON DATE OF SIGNATURE BELOW:

Yufen Chang Yu, Integrated Solutions

Date
THIS DOCUMENT IS TO BE REGARDED AS THE official QUALITY SYSTEMS AUDIT PROCESS within Integrated Solutions. IT IS TO BE MAINTAINED UNDER CHANGE CONTROL BY the document control coordinator.
CHANGE SHEET

TITLE: Integrated Solutions

Quality Systems Audit Process

DESCRIPTION OF CHANGE

ISSUE

DATE

SECTION

DESCRIPTION

1.0

2.0

3/9/97

6/27/97

All

5.0 Measurement Point #1

· Original issue.

· Added escalation methodology.
Table of Contents

1.0 DESCRIPTION
2.0 PROCESS OUTPUT
3.0 CUSTOMER
4.0 SUPPLIER
5.0 DETAILED PROCESS DESCRIPTION
6.0 AUDIT RECORD KEEPING PROCEDURE
7.0 RECORD RETENTION
7.1 Purpose

7.2 Policy Statements
APPENDICES
The process is a formal examination of an organization's quality system to gather information in any of the following areas:

· Quality Management System's overall achievement of stated quality objectives

· Adherence to certification specifications

· Adherence to documented processes and procedures

· Documentation of all performed processes and procedures

· The use of Closed Loop Corrective Action (CLCA) techniques to eliminate process problems

· Customer/supplier management

This process may be triggered by the requirement to conduct regularly scheduled internal audits. For internal audits, the process includes developing an internal audit schedule. All internal audits will be formally transcribed. The training records will be kept by the Project Specialist.
Process output is a timely, written report which must satisfy the informational requirements of the triggering input. Process conformance data is collected and reported on a regular basis by the Document Control Coordinator.
Customer #

Customer

Customer's Need(s)

1

Certification Organization

A complete, accurate audit report that provides information as specified. An audit schedule based on the status and importance of activities being audited.

2

Integrated Solutions

Employees

A complete, accurate audit report that provides information specified in written request.

3

Integrated Solutions

ISO 900 Champion

A complete, accurate audit report that provides information specified in written request.

4

Integrated Solutions

Auditee

A complete, detailed audit report assessing the Quality System.

5

Integrated Solutions

ISO 900 Champion

A complete, detailed audit report assessing the Quality System.
| | |
| --- | --- |
| Customer # | Process Management Provided By Your Customer |
| 1–5 | Feedback about satisfaction with the audit report |
| | | |
| --- | --- | --- |
| Supplier # | Supplier | Items supplied |
| 1 | Standards Bodies | Quality standards and specifications. |
| 2 | Client | A completed audit request. |
Supplier #

Process Management Provided to

Specific Supplier Control Points

A request for additional information, when required.
5.0 Detailed Process Description
Responsible

Position Name

Task

#

Detailed Process Description

All Tasks (Subprocesses) and Measurement Points

Lead Auditor

1

Develops internal Audit Schedule according to the following guidelines:

· Processes identified as critical to Integrated Solutions customer satisfaction receive highest priority on the schedule.

· Processes improved through the work of Process Action Teams or Problem-solving Teams should be audited subsequent to changes.

· Large, cross-functional processes should have priority as performance of these audits requires more time and resources.

· Overlap with external audit schedule should be avoided.

· Each process should be audited at least once a year.

Lead Auditor

2

Assigns auditors to each scheduled unit. In order to ensure audits are independent and objective, auditors cannot audit their own department or functional area.

In addition, if auditors from inside the Integrated Solutions Quality Audit team are used for first party (internal) audits, their relevant training experience must be requested and scrutinized by Lead Auditor. This is to ensure that the auditor has experience in both the area being audited and the audit standard (e.g. ISO 9001) used. Formal audit training for non-Integrated Solutions auditors is preferred; however, extensive knowledge in areas mentioned and practical audit experience may be deemed sufficient.

Lead Auditor

3

Lead Auditors response for letting the ISO 9000 Coordinator if team member cannot make schedule.

4

Notifies auditee (7 days) in advance of audit.

Audit Team

5

Gathers information (reports, documents, etc.) required to conduct audit. May include meeting with auditee.

6

Organizes information and develops checklist to perform the audit.

7

Determines assignment of responsibility among audit team members.
Responsible

Position Name

Task

#

Detailed Process Description

Describe All Tasks (Subprocesses), Process Management

and Measurement Points

Audit Team

8

9

Performs the audit and ensures the auditee understands and accepts any non-conformities found.

Summarizes audit results in report highlighting any corrective (and preventive) action required by the auditee. Writes report using Internal Audit Report Forms. If a quality standard is used (e.g. ISO 9000), categorize non-conformities as major or minor, the definitions of which are:

major: a significant non-compliance with the standard requirement; or a failure of a complete system or the lack of a quality management system requirement.

minor: an isolated, witnessed accident of failure to comply with a procedure or quality management system requirement; or a minor problem area which warrants attention.

Lead Auditor

10

Conducts closing meeting with auditees. Presents all discrepancies found and any other notes in the audit report. Audit Report will be ready with the Auditee within a week.

11

Places copy of audit report in Internal Audit Notebook in the ISO 9000 Coordinator's office. Distributes copy of audit report to each member of Integrated Solutions Audit Team involved in audit.

Auditee

12

Prepares corrective action plan within three weeks of receiving the audit report to address each audit finding. Must conform to Corrective Action Report.

Lead Auditor

13

Monitors completion of corrective action plan. Escalates status of overdue corrective action plans to CEO/President. Reviews corrective action plans to ensure inclusion of all necessary information in the plan.

Auditee

14

Informs Lead Auditor when corrective action plan is implemented. Verifies analysis and correction of each audit finding.

Lead Auditor

15

Notes corrective action completion in audit record and Lead Auditor verifies the corrective action.
Categories of measurement

[ ] Process Conformance

[ ] Process Efficiency

[ ] Yield

[ ] Product/Service Conformance

[ ] Other

[ ] Throughput or Volume

[ ] Schedule or Timeframe

[ ] Cost

[ ] Improvements

Measurement

Point #

Metric

Metric and Measurement Point Description, with Frequency of Measurement, Reporting and Report Recipients Noted

M1

Quarterly

· Quarterly assessment of the efficiency of the audit program, value add and review of overdue internal audit action items will be conducted during the Quality System Management Review.

Escalation will be made to upper management by the lead auditor as soon as a corrective action becomes overdue. Missed milestones due not need to be escalated unless impacting the overall completion date.
6.0 Audit Record Keeping Procedure
Record keeping for Quality Audits proceeds as follows.

Prior to start of audit, the Lead Auditor:

· Works with audit team to update audit schedule as necessary

· Leads audit team in developing checklist for audit

At completion of audit, Lead Auditor:

· Dates audit report, places the due date for the corrective action plan on the audit finding report, makes a record copy and presents the original to auditee in a closing meeting

· Records audit completion date, audit report date and closing meeting date in audit file log

· Records audit completion date on audit schedule

· Records the date corrective action plan was reviewed

· Records date corrective action was completed

· Maintains a copy of the following documents in the Internal Audit notebook located in the ISO 9000 Coordinator's office:

- Audit Schedule

- Audit Log

- Notice to Auditee

- Audit Report with Checklist Attached

- Corrective Action Plan
The purpose of this policy is to ensure that records are systematically maintained and deleted in accordance with a predetermined, approved plan. Compliance with this policy will guarantee records are available when required for management use and to comply with regulatory agencies. In addition, the audit file log will demonstrate that Integrated Solutions utilizes established procedures for disposing of audit records in an orderly manner within the normal course of business with no intention of destroying records to conceal possibly unfavorable information.
All quality audit records will be stored in a designated filing area by the ISO 9000 Coordinator.

An audit file log will be maintained identifying:

· Areas audited

· Audit completion dates

· Audit report dates

· Closing meeting dates

· Corrective action plan dates

· Corrective action completion dates

All audit records will be retained until January of the year following the second anniversary of the audit report, unless they must be retained longer to fulfill any appropriate regulatory requirements.
Quality Audit Flowchart

Lead Auditor Tasks Flowchart

Quality Systems Audit Forms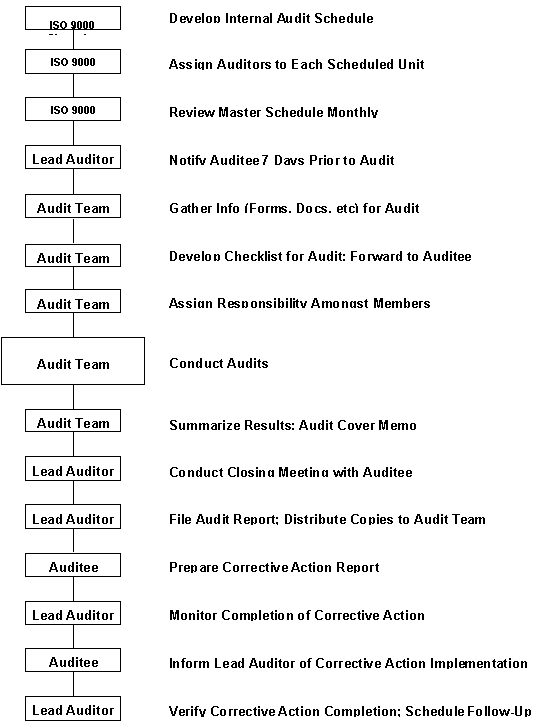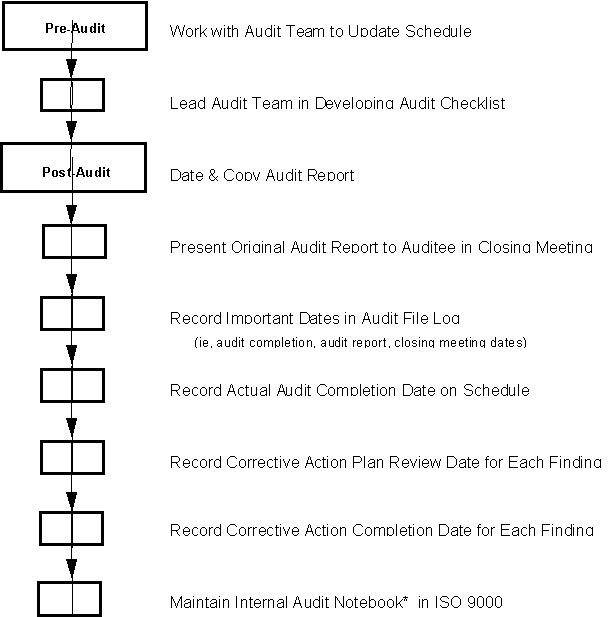 * There may be more than one Lead Auditor
SITE AUDITED:

AREAs AUDITED:

Audit Dates:

Previous Audit Date:

ISO 9001 Standard:

19 __

Quality manual Revision:

ISO 9001 CLauses Covered:

4.__ __, 4. __ __, 4. __ __, 4. __ __, 4. __ __, 4. __ __.

TOTAL AUDIT FINDINGS: _______

LIST FINDINGS BELOW:

ID

-

M M

D D

Y Y

-

SEQ #

ID

-

M M

D D

Y Y

-

SEQ #

Audit team members:

Lead:

Persons Audited:

OBJECTIVES / SCOPE:

summary STRENGTHS:

IMPROVEMENTS:

Corrective Action Required:

yes

NO

to Manager:

Lead Auditor

Date

Manager reply:

Manager

Date
FIGURE A
ID

M

M

D

D

Y

Y

SEQ.

-

-

AuditOR:

AREA AUDITED:

Audit Date:

Previous Audit Date:

ISO 9001 Standard:

19

Quality manual Revision:

Processes referenced:

Type of non-conformity

major

minor

non-conformity against iso 9000 clause:

ISO 9000 clause, Contract, Process States:

facts found (traceability):

(where, when, what)

Notes and comments:

corrective action plan from Manager
FIGURE B
CORRECTIVE ACTION REPORT

ID

M

M

D

D

Y

Y

SEQ.

-

-

AuditOR:

AREA AUDITED:

Audit Date:

Previous Audit Date:

ISO 9001 Standard:

Quality manual Revision:

FINDING:

Processes referenced:

Root cause:

Actions taken to prevent RECURRENCE:

Description

owner

Due DAte

Corrective Action Plan Accepted:

Lead Auditor

Comments

Date

Corrective Action Plan Completed:

Manager

Comments

Date

verified by:

Lead Auditor

Comments

Date
FIGURE C